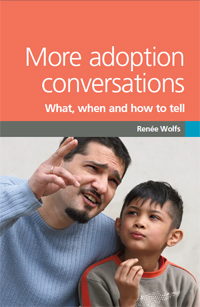 More Adoption Conversations
what, when and what to tell children
by Renée Wolfs
ISBN 9781905664962
£12.95
Why do adopted teenagers feel the way they do? How much of this is due to their being adopted or to the changes that puberty brings? How can parents help their children to confront and deal with the turbulence of their teenage years, their identity crises and their adoption-related problems?
This in-depth practical guide, written by an adoptive parent for adoptive parents, explores the problems that adopted teenagers (between 10 – 18 years old) are likely to confront and provides suggestions for helpful solutions and achievable communication methods.
Although the guide focuses primarily on children adopted from abroad, the practical advice offered can be helpful in relationships with any adopted young person.More Adoption Conversations considers:
The complex feelings that adopted teenagers can have
Adoption-related problems that surface during puberty
Why adopted teenagers feel and behave the way they do
Talking about painful events and acknowledging difference
How to help an adopted young person deal with their grief and anger
Establishing meaningful dialogues and using communication techniques effectively
This invaluable guide, brimming with advice and ideas, will help parents discuss the known – or unknown – aspects of their adopted teenager's history and be well equipped to communicate difficult issues and build bridges with sensitivity and responsiveness. Examples of dialogue and suggested questions and answers about a range of subjects surrounding adoption add to the usefulness of More Adoption Conversations. Quotations from young people about their thoughts, feelings and frustrations help bring the text to life.
Renée Wolfs lives near Utrecht, the Netherlands. She specializes in communication, counseling and grief. She is also the author of 'Adoption conversations' (BAAF). Both books are popular among many families of adopted and foster children. Next winter her new book will be published at Jessica Kingsley Publishers:'Healing from Loss after Adoption or Fostercare'. She writes columns and articles in adoption magazines and is an adoptive mother of three teenagers.
Review on Amazon:
A welcome resource for adoptive parents, and agency reading lists
'More Adoption Conversations' puts the same emphasis on helping parents find ways to open a dialogue on adoption with their children as the earlier book 'Adoption Conversations', with prominence given to verbal discussion of adoption issues in spoken exchanges with the children. Further, the book targets both domestic and intercountry adoptive families. Since dealing with teenagers is a subject which most parents approach with some trepidation, this book looks set to be a welcome resource for adoptive parents, and agency reading lists.
The book is well-structured, with a sensible progression in the chapters from a general discussion of puberty, to the chapters which look at the teen years from the perspective of adoptees and their parents.The core of the book lies, for me, in suggestions how adoptive parents may usefully open, hold and develop `adoption conversations' with their teenagers. It offers a useful method – 'reflective dialogue' and active listening by parents – for achieving this. It also has a key chapter on parent pitfalls – how adoptive parents themselves can negotiate the turbulance of adopted teen years, and deal with their own adoption losses, triggered again by that same teen turbulance over birthparents and identity. There's a small bibliography ( of Dutch and US resources). And most usefully, the author uses apposite quotes from adopted teens to illuminate the points she makes. For the reasons detailed above, this book is a good addition to adopters bookshelves.
Ordering information
My books are available on Amazon.uk and several other international online booksellers.
Amazon-sites in other country's also offer new and second hand buying choices.
To order the book through Bol.com (Netherlands, Belgium, Europe), please click here